In April, it's spring vibes only! It's time to go out and enjoy the spring in Paris ! We have selected for you the most flowery terraces in Paris by combining our colorful seasonal products. 
1.Maison Sauvage = Green attitude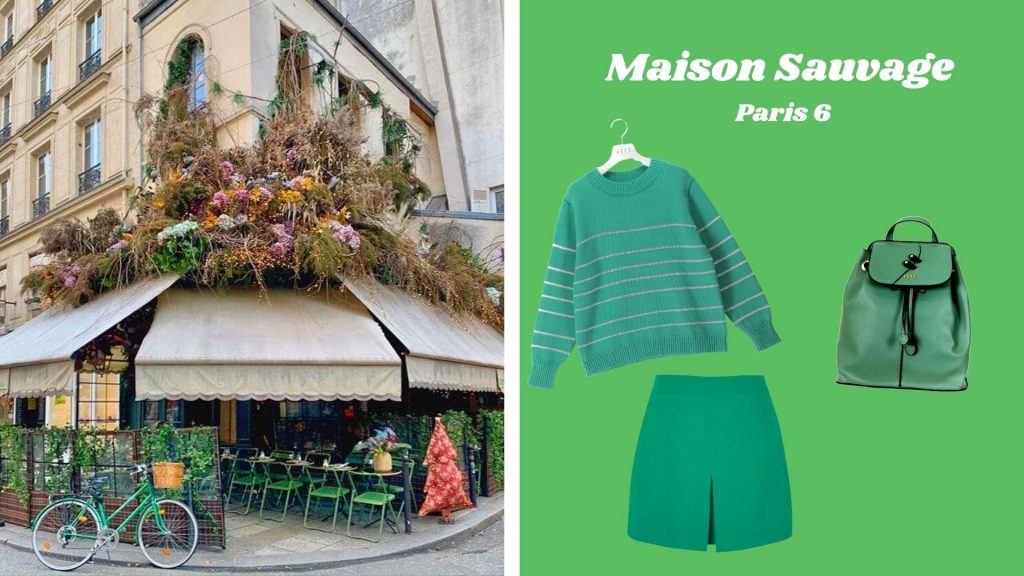 In the heart of the 6th district of Paris, let yourself be surprised by this flowery decoration and enjoy a spring poke bowl with your great green outfit.
Maison sauvage, 5 Rue de Buci, 75006 Paris
SHOP THE GREEN LOOK: Sweater shop here / Short shop here / Bag shop here
2. Perruche = Shine in Yellow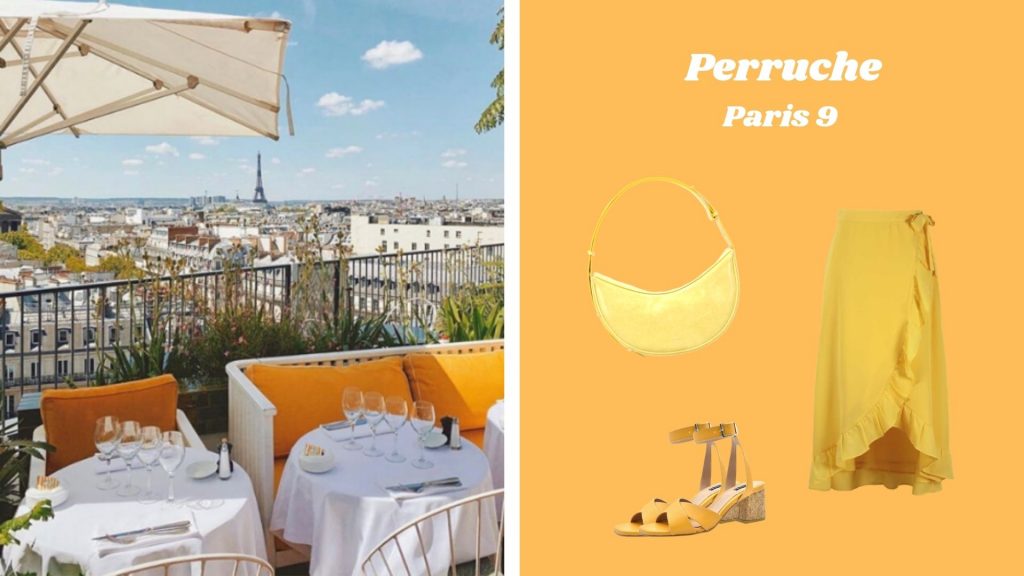 With this breathtaking view of all of Paris, come and enjoy fabulous cocktails while soaking up the sun… Perruche, Printemps De L'Homme, 2 Rue du Havre 9ème étage, 75009 Paris​
SHOP THE YELLOW LOOK: Skirt shop here / Shoes shop here / Bag shop here
3. Rooftop Molitor = Blue lagoon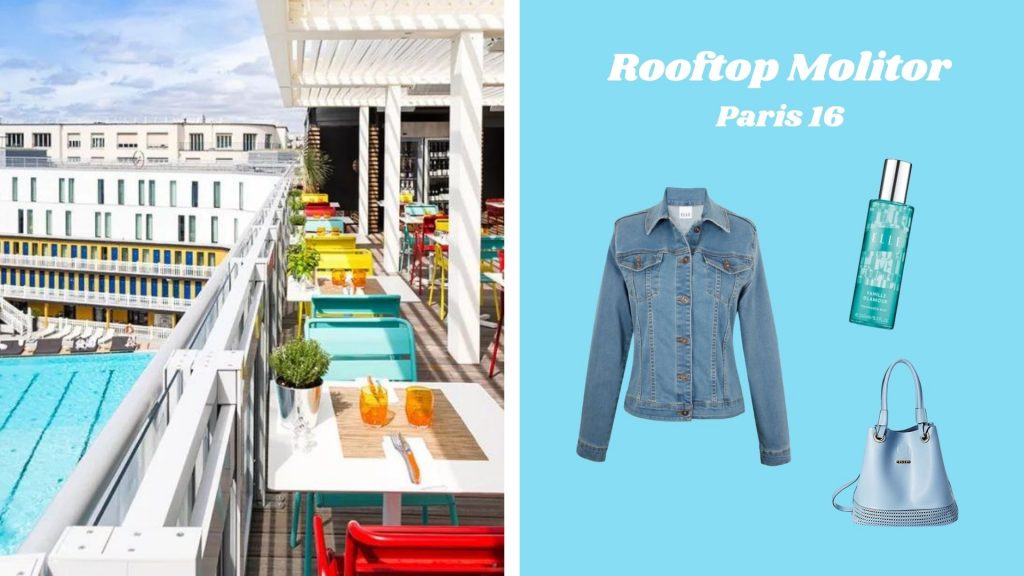 Immerse yourself in this original place with this magnificent pool that makes us think of vacations ! Go to the top floor of this parisian rooftop to drink delicious cocktails.
Rooftop Molitor, 6 Av. De la Porte Molitor, 75016 Paris
SHOP THE BLUE LOOK: Vest shop here / Bag shop here / Perfume shop here
4 . Au vieux paris = Flower power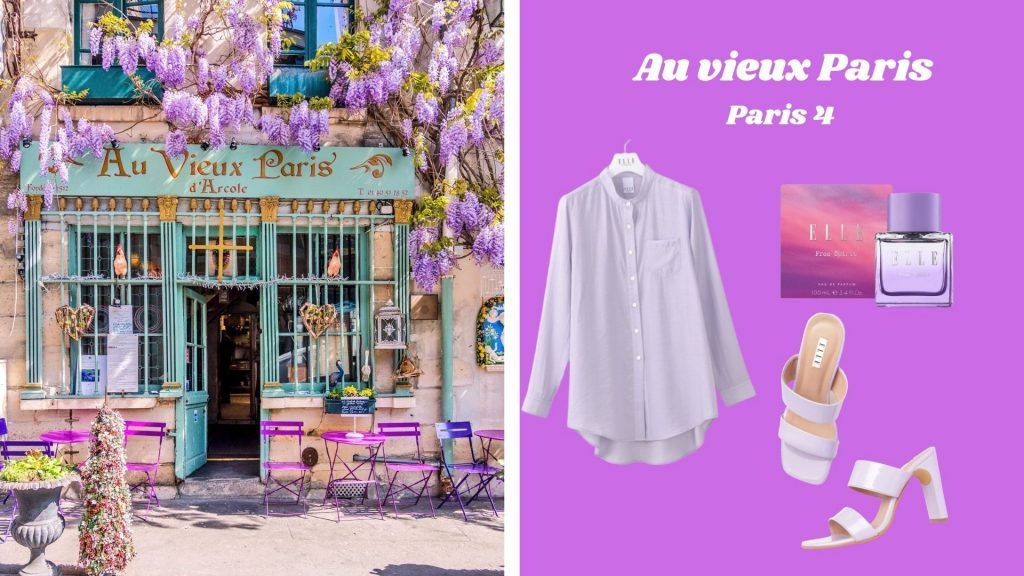 Near Notre Dame, « Au vieux Paris » is one of the oldest restaurant in the city with more than 5 centuries of history. In a medieval atmosphere, you can taste original French specialities. Ideal for a romantic diner!
Au vieux Paris, 24 Rue Chanoinesse, 75004 Paris
SHOP THE PURPLE LOOK: Shirt shop here / Shoes shop here / Perfume shop here
5. La Favorite = Life in pink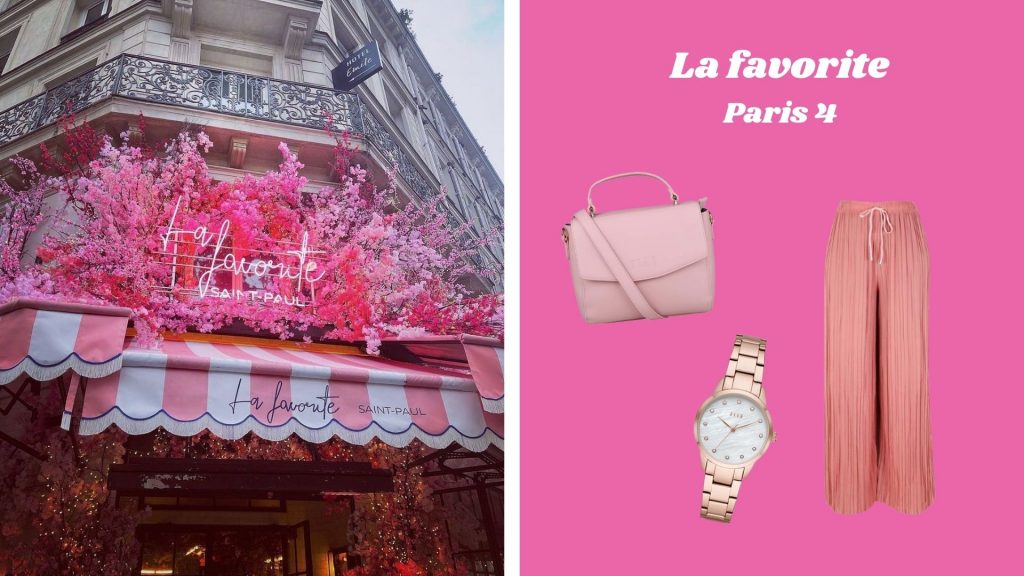 La Favorite is a modern brasserie situated in the Marais, with a very colourful and flowery outdoor. There, you can find a large variety of dishes from the tartare to the typical burger. Perfect if you like to mix the Parisian and New York style!
La Favorite, 6 Rue de Rivoli, 75004 Paris
SHOP THE PINK LOOK: Pants shop here / Watch shop here / Bag shop here